It was a long three days watching the professionals pickup and move both passenger cars #22 and #72 here in Alturas. Lots of excitement and positivity was had by all watching, and the occasional moments of nervousness as the cars lifted off the ground, swaying and shifting their weight. In the end, a great feeling of accomplishment by the Board of Directors of the Nevada-California-Oregon Railway having successfully saved both cars for future preservation.
Baggage Mail Car #72 and Mail Express Car #22 are now safely stored here in Alturas. This is the first time since these cars were placed on the ground nearly a century ago that both are now under a roof and properly blocked to level the bodies of these cars. Research on these cars has begun, and preservation work will begin in 2021 with the creation of a historical research committee to assist in needed work.
Cars #22 and #72 now under cover.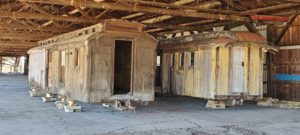 We would like to thank Keith Stotts, owner of Stotts & Sons from Anderson, who carefully and diligently moved both cars for us. Keith, and his sons, were quite patient with all of us as the crowd of folks gathered to watch their work. It's not every day, here in Alturas, you get to watch an old narrow-gauge passenger car get moved and paraded through town!
A personal thank you is given to June Roberts, original owner of Baggage and Mail Car #72. June, and her family, were great stewards of the passenger car over the decades, ensuring weathering to the car was minimal and saving many of the unique pieces that had come from #72. We'd also like to thank the City of Alturas for donating Mail Express Car #22 to the N-C-O Ry. Their generous contribution will lead the preservation of this rare N-C-O built car.
(LEFT) June Roberts, donor of #72, looks on with N-C-O Ry President, Shane Starr, as the passenger car is raised on blocks. (RIGHT) City of Alturas Public Works Director, Jason Diven, inspects the interior of #72 with Shane before the move.